Who's Southern Racks?
Meet Jessica McQueen Bates. Bow hunter, outdoor enthusiast, and founder from Tyler, Alabama!
"Southern Racks outdoor products are designed by a woman hunter for women who love to hunt!"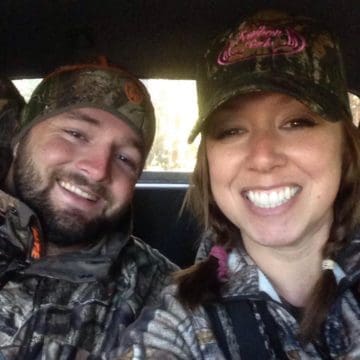 Jessica McQueen Bates was born in Tyler, Alabama and raised from an early age learning to hunt and to fish. When she found her love of bow hunting whitetails, she quickly learned she needed every advantage possible for a successful hunt. She began researching and trying a variety of scent-free products for hunters, including shampoo, conditioner, body wash, and lotion.
Jessica has also been a licensed cosmetologist in the state of Alabama since 2005 and has much experience with professional, salon formula shampoos and conditioners. She knows most products in the outdoor industry that are made for hunters and huntresses, always left her hair dry and brittle. In her professional experience, she knows how much ladies spend at the salon for hair color treatments, and believes the huntress should not settle for hunting products that are not designed to protect your color treated hair. This was all the motivation she needed to design a new product for hunters that conditions and moisturizes your hair and skin like top selling, name brand salon products.
Founded in 2014, Southern Racks natural, scent-free products are made with vitamins, minerals, and antioxidants with no harmful sulfates and are 100% paraben free. Our Shampoo and Conditioner is safe for color treated hair, and our body wash and lotion will drench your skin with vitamins and moisturizers. Southern Racks Body Wash and Moisturizing Lotion do not contain the harsh chemicals known to irritate sensitive skin conditions. Our products contain anti-irritants that help with skin allergies and skin conditions such as eczema or psoriasis.